Who is Bobby Brown?
Bobby Brown is an American singer and songwriter. From 1992 to 2007 he was married to the late singer Whitney Houston. Additionally, the couple had a daughter, Bobbi Kristina. Brown was a member of the R&B band New Edition. Furthermore, he also had success as a solo artist. He provided two songs for the movie Ghostbusters II. Additionally, in 2005 Brown and Houston starred in their own reality television show, Being Bobby Brown. Sadly, both Whitney and Bobbi Kristina passed away in a similar manner, three years apart. Check out the Bobby Brown house below.
Where is Bobby Brown from? Boston, MA
How much is Bobby Brown worth? 
Bobby Brown Net Worth: $2 million
Where Does Bobby Brown Live?
This home is located in Alpharetta, GA. Alpharetta is a part of the Atlanta metropolitan area. 
The house has five bedrooms and seven bathrooms over 6,000 square feet of space. This home was the backdrop for the 2005 reality show, Being Bobby Brown. Furthermore, it is a single-family home made of conventional-style brick. It features an outdoor pool and spa. Additionally, there are also two masonry fireplaces in the home. As well as a fully finished basement. Furthermore, the home was recently updated in 2021. The home boasts a classic balcony overlooking to the front yard. Additionally, there are brick steps leading to the front door.
Specifications:
Bedrooms: 5
Bathrooms: 7
Square Feet: 6,633 sq ft
Price: $1.7 million
Bobby Brown Address: Tullamore Pl, Johns Creek, GA 30022
Photos: Bobby Brown House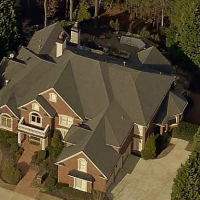 We post on luxury real estate and celebrity homes on our Instagram, Twitter, Facebook, Pinterest, TikTok, and YouTube. Also, Please follow us on each of these. Finally, I hope you enjoyed reading about Bobby Brown's home. Furthermore, please leave your thoughts and comments below. Lastly, read some other articles like this one on our frontpage.