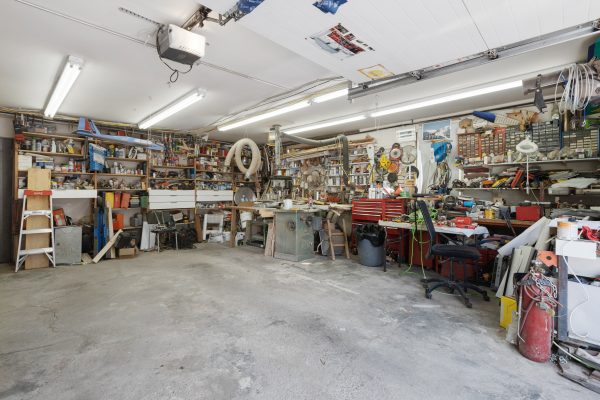 Garages are often the space where you put household items to get them out of sight and out of mind. The Christmas decorations live there for 11 months of the year and the car gets parked up if it's lucky.
Rather than using it as a dumping ground, it's time to overhaul your garage and discover a whole new room for your house with these top tips.
Refresh the Space
First things first, you need to sort through the clutter and create a base for your garage makeover. Work out what you want to keep and then make a plan for the rest.
Some will end up in the bin, but it's worth donating, recycling or selling as much as you can. It's better than sitting in a landfill and you may get a few extra pennies to spend on your garage conversion.
When you know how much stuff you're dealing with, you can plan what you want to do with the space.
Decorate
Decorating your garage serves two purposes: Making it look good and making it usable. Garages tend to be damper than many other areas of the house, so it's worth using damp-proof paint that acts as a moisture barrier, keeping water out and your belongings dry.
Unfortunately, this sort of paint isn't available in a range of fun colours. It's worth using it as a base coat and painting over it with a regular emulsion in your chosen shade. That way, your garage is a much nicer place for activities or storage. It's way more appealing to be in a dry cosy room than a damp mouldy one, after all.
Paint the Floor
Adding a fresh coat of paint to the floor works wonders in a garage. Firstly, it rejuvenates the whole space, especially if you opt for a bright colour to lighten up what's often a dark room. It also means you can use your garage for so much more than just storing clutter.
Opting for durable garage floor paint provides protection against all kinds of wear and tear. Want to store your car in there? No problem. Fancy a new boot room? Sorted. A suitable floor will handle soggy boots and muddy paw prints with no problems while saving you from tracking mess all through the house.
Add Storage
Vertical storage is great in garages, especially for items you don't use often. Old pallets are perfect for storing brooms, garden rakes and fishing nets. Simply stand the pallets on their narrow edges and secure them to the wall to create instant shelving at a minimal cost.
Adding cabinets is another way to achieve tidy storage. The doors conceal any of the mess and clutter you'd rather keep out of sight, keeping your garage a stress-free place to be. Best of all, you can lock cupboard doors and store chemicals safely out of reach of little hands.
However you choose to store your garage wares, make sure everything is organised and clearly labelled so it's easy for you to find.
Make it Car-Friendly
Many of us don't store our car in the garage because it's just not a suitable space. From too much clutter in the way to dinging the doors on the wall, it's often easier to leave the motor outside.
Clearing a designated space for your car is a strong starting point. If you know you've got somewhere you can park it, you're far more likely to use it. So mark out where the car is going to go and keep that section of the garage free from other items.
As for those pesky door dings? Pool noodles! Cut some in half and place them on the walls to provide a soft bumper and prevent any more scrapes. Pieces of scrap carpet also work well if you prefer a more subtle look or need to cover a larger area.
Get Crafty With Space-Saving Ideas
Magnetic knife strips come in handy in a garage. If you attach a couple onto the wall, they're the perfect place for storing all those little screws and nails that always seem to go missing.
Why not use the walls for storing other tools and trinkets? Popping some pegboards, hooks and nails up makes a quick and easy storage space that's easy to reach.
Of course, you'll need a workspace to use all of these tools. A wall-mounted fold-away workbench is the ultimate space-saver that still gives you all the room you need. Unlike the traditional bulky benches that sit in the way, simply fold these up when you're finished to create more room for other activities.
Make it Comfortable
You're more inclined to use your garage if it's got a few creature comforts. Something as simple as a welcome mat at the door and a houseplant on the window sill gives an inviting, homely feel.
If you know you're going to be spending a lot of time in there, you could always splash out on a portable heater, wifi, or even some plumbing for a sink. This gives you so many more options for how to use the space, such as a home office or a guest room. Don't underestimate the importance of being able to make a cup of tea!
Add Electrics
Some garages already have plug sockets, but not all of them. If yours doesn't have any power, this is a great way to make it a more usable space. Adding plugs gives you the freedom to do more in your garage, such as putting your washing machine and tumble dryer in there.
You might even want to pop a treadmill in there and start your own home gym. At the very least, you can use electric hand tools and lawnmowers without the faff of unfurling an extension lead.
For some people, the addition of power could mean putting a TV, games console and lamps in there to create extra living space. It may be a bit pricey to get an electrician out initially, but it gives you endless options for usability.