Almost every kid loves a sleepover. Many of us love the company of our friends while young, and we will give anything to spend time in their house, backyard, or basement. Chances are, you also had a sleepover when you were a kid and relish memories of such activities.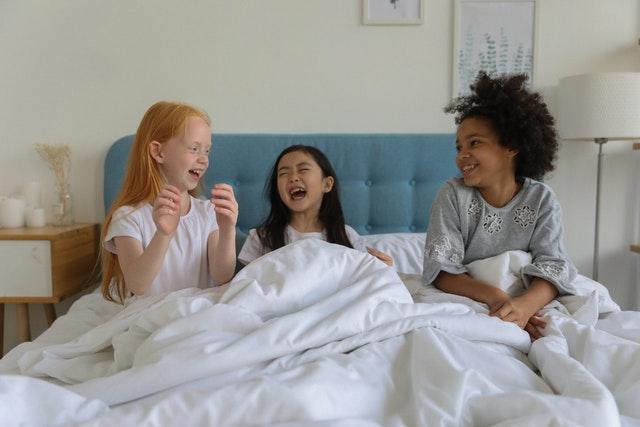 Your kids have grown and are also yearning for a sleepover with their friends. As an adult, you must realize that lots of planning and activities go into the process.
You can also help your kid have the perfect sleepover by observing various guides and tips. Here are some of the information that can help you to have an ideal sleepover:
Keep the Guest List Minimal
The more, the merrier is not suitable for a kid's slumber party. People used to slumber parties can host as many as 15 guests. Beginners should keep the number minimal, like three maximum, and watch things. However, someone with ample experience handling kids might not restrict the number, provided other adults can help supervise.
In addition to the guest list, the kids involved matter also. Kids who are used to each other will indeed have a good time together. Introducing a new person to the crew might be too much for the team to handle. Hence, try a playdate for the kids to get to know each other and for you to understand them, as well.
Make Sure Your Child is Ready
Kids are different, and they grow up at different rates as well. While some might be ready for independence as early as possible, some might be worked up at the thought of spending time away from their parents.
There is no specific age that a child will be ready for a sleepover. However, ensure they are not pressured for the event. Like the famous saying, first impressions last longer, so ensure they have a positive one as it could dictate their disposition to consequent sleepovers.
Make Sleep a Priority
Even when the light is out, there is no hope of sleeping at a particular time. Considering that a series of activities can keep them engaged, sleeping will be the last thing on their mind. However, you want to ensure the kids get enough sleep.
Keep them abreast of the light-out period and what they need to do. Ensure everyone has a flashlight. Try and provide comfortable beds and pillows for everyone. Sleeptone has the perfect cushions, pillows, bedsheets, and mattresses to fit your sleepover needs.
Kids will prefer to giggle and gist into the night. Enforcing the rules for a night out will make everyone sleep on time.
Make Provisions for Fun
For the parents hosting the sleepover, it is essential to be prepared for fun activities as supervised play sometimes gets stale. Since a sleepover is longer, there is time for a series of activities.
Let the kids come up with their DIY dinner idea, which could be a taco bar or the freedom to make their pizza. Spice things up by introducing new games or projects. The idea is to keep things interesting and get them excited until it's time for bed.
Consider a late-night movie that will provide various lessons, including morals and scientific principles that will keep them engaged into the night.
Supervise, and be Within Reach
When having a sleepover, the safety of all kids attending should be a priority. As a result, all young kids should be within reach and hearing distance; also, get rid of any possible hazard source like wires that might cause trip and fall, spilled water, etc. In the same manner, older kids can play in a separate room.
While you want to supervise them and beware of what is happening, you should not be too intrusive. Check-in once every hour, and have a code phrase your kid can say if things go south. The phrase can be as simple as "the cat is out."
With this, you can come in and help to ensure that things keep going smoothly.
Be Creative With Food
While pizza is the most popular food that comes to mind regarding sleepovers, there are endless possibilities in terms of food. Encourage creativity and fun, and allow the kids to develop various ideas.
Make provisions for a snack they will munch on after dinner and while watching the late-night movie. If you serve beverages, ensure they are low in sugar and caffeine. Rather than sugary drinks, consider healthy ones like popcorn.
Prepare for breakfast the following day as well, and make it protein-rich. If the breakfast can be ready and available when they wake up, your event will end on a successful note. Consider easy-to-make breakfasts like granola bars, muffins, etc. However, keep all parents in the loop to account for food allergies, and ensure everyone is comfortable with what you offer.
Prepare for Unexpected
Don't be caught off guard, no matter how meticulously you plan a slumber party. You might have the perfect blueprint, while the kids will prefer a different set of activities altogether. Some kids might get homesick, while some might not be interested in the meal you offer. Also, there could be a few minor accidents.
Make sure your plan is not rigid, and keep an open mind. Ensure you are reachable as a parent sending a kid for a sleepover in a friend's place. Keep your phone fully charged and within reach.
Conclusion
The idea of having a sleepover need not give you the chills. With several tips explored in this article, you can plan the perfect sleepover that your kids will relish for a long time.