Who is Bill Ackman?
Bill Ackman is an American hedge fund manager. Furthermore, he is the founder and CEO of Pershing Square Capital Management. He is also an activist investor. Additionally, his father is Lawrence David Ackman, who was the chairman of the Ackman-Ziff Real Estate Group. Ackman received a Bachelor of Arts degree magna cum laude from Harvard College and also an MBA from Harvard Business School. Furthermore, he started Pershing Square in 2004. Ackman follows The Giving Pledge, which means that he pledges to give away 50% of his wealth to charity. Check out the Bill Ackman house below.
Where is  Bill Ackman from?  Chappaqua, New York
How much is  Bill Ackman worth? 
 Bill Ackman Net Worth: $2.8 billion
Where Does  Bill Ackman Live?
This home is located in Westerly, RI. Furthermore, Westerly is a small, beachfront community. Other famous residents include Taylor Swift. 
The house has seven bedrooms and 6.5 bathrooms over 6,000 square feet of space. This Rhode Island mansion was built in 1996. Furthermore, Ackman purchased the home in 2012. It sits behind a long stone driveway. There are also tall hedges in front of the home, for privacy. Additionally, the home features a large, open concept. There are also incredibly high ceilings. The backyard includes a pool surrounded by a large patio. 
Specifications:
Bedrooms: 7
Bathrooms: 6.5
Square Feet: 6,500 sq ft
Price: $16.5 million
 Bill Ackman Address: Ocean View Hwy, Westerly, RI 02891
Photos: Bill Ackman House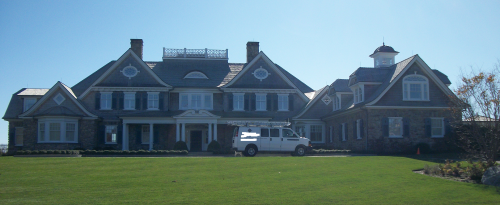 We post on luxury real estate and celebrity homes on our Instagram, Twitter, Facebook, Pinterest, TikTok, and YouTube. Also, Please follow us on each of these. Finally, I hope you enjoyed reading about  Bill Ackman's home. Furthermore, please leave your thoughts and comments below. Lastly, read some other articles like this one on our frontpage.