Who is Eugene Levy?
Eugene Levy is a comedian and actor. He started his career in the late 1970s on the Canadian sketch comedy weird, SCTV. Furthermore, he became famous for appearing in movies such as American Pie, Waiting for Guffman, and National Lampoon's Vacation. Eugene, along with his actor son Dan Levy, co-wrote and created the hilarious show Schitt's Creek. The show also starred Catherine O'Hara as Eugene's wife. Dan also plays his son in the show. Additionally, his daughter Sarah Levy also stars in the show. Levy has been married to his wife Deborah since 1977. Check out the Eugene Levy house below.
Where is Eugene Levy from? Ontario, Canada
How much is Eugene Levy worth? 
Eugene Levy Net Worth: $30 million
Where Does Eugene Levy Live?
This home is located in Pacific Palisades, CA. Furthermore, Pacific Palisades is a neighborhood on the Westside of Los Angeles, CA. Additionally, there is a population of 28,811. 
The house has three bedrooms and three bathrooms over 2,000 square feet of space. This home was built in 1950. Furthermore, it features an attached garage, as well as one parking space. There are beautiful stone steps leading from the driveway up to the front door. Additionally, this is a two-story home, with a total of nine rooms. The home features one fireplace, with a wood shake roof. 
Specifications:
Bedrooms: 3
Bathrooms: 3
Square Feet: 2,081 sq ft
Price: $3.9 million
Eugene Levy Address: Rimmer Ave, Pacific Palisades, CA 90272
Photos: Eugene Levy House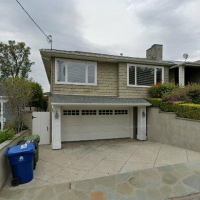 We post on luxury real estate and celebrity homes on our Instagram, Twitter, Facebook, Pinterest, TikTok, and YouTube. Also, Please follow us on each of these. Finally, I hope you enjoyed reading about Eugene Levy's home. Furthermore, please leave your thoughts and comments below. Lastly, read some other articles like this one on our frontpage.