Identifying external and internal threats and challenges is important to stay one step ahead of a constantly evolving world. Employees should be taught how to overcome adversity by leading by example.
A business can improve its security by deputizing security advocates, reviewing security protocols on a routine basis, integrating the latest cybersecurity tech into every operational procedure, and ensuring that only those with the authorized clearance have access to classified company data.
Upgrading locks, windows, and doors and developing a sound response plan will help you protect your monetary gains and reduce your expenses.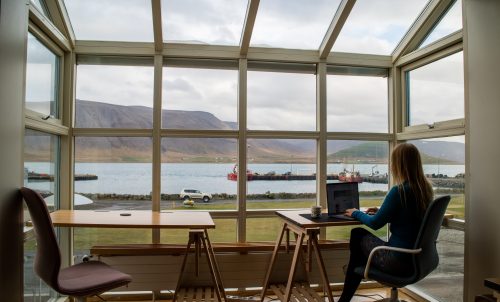 How Improving Security With Smart Technology Can Save Your Company Money
You will be provided with peace of mind knowing that your company will be protected from the latest cybersecurity threats. The improved professionalism on display via smart-based tech will also boost your company's profile and keep it one step ahead of its competitors.
Theft deterrence is another benefit, as most criminals will avoid targeting a business protected with the latest smart technology in the market. If criminals do decide to target your business, you will also get notified immediately in the event of a breach.
Smart technology can be configured to your liking. You can add or remove features with a few quick modifications. Moreover, you will obtain protection from liability. Smart technology will ensure that all parties are held accountable for their actions.
All data will be monitored and stored in the cloud for quick access if needed. You will also save money on your insurance premiums, as an enterprise protected with smart technology will be seen as a lower risk of making a claim.
Employee retention is yet another benefit. Employee morale will be high, knowing they are protected by the most advanced technology in the industry. Your business assets, IPs, clients, and employees will be protected from hackers and other cybersecurity threats as well.
The increased safety provided by a state-of-the-art commercial security system can save a business thousands of dollars in the long run.
What are the main things you can do to keep your company safe?
Access should be regulated so that only those who need to access restricted areas of the facility can do so. A building inspection should also be performed before and after your shift to ensure everything is up to code.
Locks, windows, and doors should also be upgraded. Motion, glass-break, and light sensors can be installed. Deadbolts and smart locks will ensure that keys cannot be stolen and locks cannot be easily picked.
Important documents should also be shredded before you dispose of them to ensure they do not fall into the wrong hands.
Cybersecurity should also be a top priority for your company. The latest encryption tech, firewalls, and the like will make it nearly impossible for cybercriminals to breach your networks and wreak havoc on your systems.
What are your best options to protect your business?
There are many different security systems you should consider for your business.
Physical security helps protect data, software, hardware, networks, and personnel from sabotage or harm. Data security will protect your digital information from theft, corruption, or unauthorized access.
It will need to be updated to provide comprehensive protection throughout its lifecycle. Equipment security will also need to be considered.
From high visibility clothing and bulletproof vests to two-way radios and defence equipment, your security personnel will need the most advanced tools to protect your customers, employees, and assets from harm.
Document security refers to properly maintaining all pertinent documents that are stored, delivered, backed up, processed, and filed. It also involves safely disposing of classified dossiers.
In sum, it is important to invest in business security systems that are versatile and comprehensive to protect your enterprise from any internal and external threats that it may face in the foreseeable future.
Protect Your Hard Earned Investment
Finding the best security company and the latest commercial security system will save you thousands of dollars in the long term. The newest technology will protect your business from sabotage, theft, vandalism, arson, and violent crimes.
Clients and employees will have peace of mind knowing they will be protected from physical and cyber threats. As a result, customer loyalty will be high, resulting in recurring revenue streams, and employee morale will go up, helping retain your top workers.
In addition, your insurance premiums will be lowered, as your enterprise will be seen as a lower risk for various crimes, such as corporate misconduct, embezzlement, money laundering, and conspiracy.
Sources:
What is Document Security, and Why is it Important? | Complete Controller
The 8 must-have items of a security guard equipment | QR-Patrol | Real Time and Online Guard Tour Patrol System (qrpatrol.com)
What is Data Security? Data Security Definition and Overview | IBM
What is physical security? (techtarget.com)
Tips to Safeguard Your Small Business Smartly | Indifi Business Blogs
6 Ways to Improve Your Small Business' Security | Kabbage Resource Center
How to Deal With Adversity in the Workplace (chron.com)
4 Simple Steps to Improve Corporate Security - Blog | GlobalSign