Who is Randy Orton?
Randy Orton is an American professional wrestler. Furthermore, he is signed to WWE. There he is part of the Raw brand. His father, Bob Orton Jr., and his grandfather, Bob Orton, were also both professional wrestlers. Additionally, his uncle, Barry Orton was a professional wrestler as well. When he was just 24 years old, Orton became the youngest world champion in WWE history. Furthermore, he has had a rivalry in WWE with fellow wrestler, John Cena. The feud is considered the longest and greatest rivalry in WWE history. Check out the Randy Orton house below.
Also, where is Randy Orton from?  Knoxville, Tennessee
How much is Randy Orton worth? 
Randy Orton Net Worth: $11 million
Where Does Randy Orton  Live?
This home is located in O Fallon, MO. Furthermore, O Fallon is about 30 minutes from St. Louis. 
Also, the house has four bedrooms and 4.5 bathrooms over 4,000 square feet of space. This home was built in 2007. Furthermore, it sits in safely behind a gated community. The home features a large motor court, with a fountain in the middle. The interior of the home boasts multiple floor-to-ceiling windows, as well as soaring ceilings. Additionally, the home features a library with custom cabinets, a home theatre, as well as a game room. The backyard showcases a magnificent outdoor kitchen, a fire pit, and a pool. The home also comes equipped with a private, screened-in porch. 
Specifications:
Bedrooms: 4
Bathrooms: 4.5
Square Feet: 4,734 sq ft
Price: $1.6 million
Randy Orton  Address: Stonecastle Dr, O Fallon, MO 63366
Photos: Randy Orton House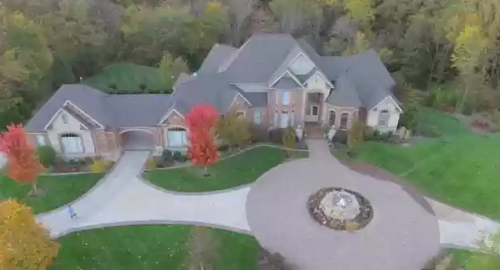 We post on luxury real estate and celebrity homes on our Instagram, Twitter, Facebook, Pinterest, TikTok, and YouTube. Also, Please follow us on each of these. Finally, I hope you enjoyed reading about Randy Orton 's home. Furthermore, please leave your thoughts and comments below. Lastly, read some other articles like this one on our frontpage.