Who is Helen Hunt?
Helen Hunt is an actress and director. She gained fame with her starring role on the 1990s sitcom Mad About You, opposite Paul Reiser. Furthermore, she then made a name for herself starring in movies such as As Good as It Gets, with Jack Nicholson. And What Women Want, with Mel Gibson. Besides her successful acting career, Hunt also has had much success as a director. She directed the films Then She Found Me and Ride. She also directed episodes of the television shows House of Lies and This Is Us. Check out the Helen Hunt house below.
Where is Helen Hunt from? Culver City, CA
How much is Helen Hunt worth? 
Helen Hunt Net Worth: $75 million
Where Does Helen Hunt Live?
This home is located in the Brentwood neighborhood of Los Angeles, CA. Hunt purchased the home back in 2001. Furthermore, the Brentwood neighborhood has a population of 34,446.
The house has five bedrooms and seven bathrooms with over 4,000 square feet of space. Furthermore, the home was built back in 1931. This is a Spanish-style architecture. Additionally, it is a one story home, with a total of 13 rooms. There is also a pool surrounded by a nice concrete patio. Furthermore, this magnificent home is privately surrounded by lush trees and flower bushes. The home also sits securely behind a large gate. Additionally, there is also a large guesthouse that sits right next to the pool. 
Specifications:
Bedrooms: 5
Bathrooms: 7
Square Feet: 4,274 sq ft
Price: $6.3 million
Helen Hunt Address: N Cliffwood Ave, Los Angeles, CA 90049
Photos: Helen Hunt House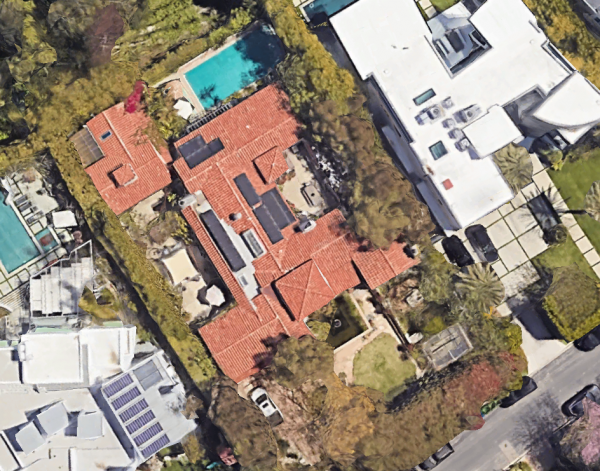 We post on luxury real estate and celebrity homes on our Instagram, Twitter, Facebook, Pinterest, TikTok, and YouTube. Also, Please follow us on each of these. Finally, I hope you enjoyed reading about Helen Hunt's home. Furthermore, please leave your thoughts and comments below. Lastly, read some other articles like this one on our frontpage.