Who is Ed Sheeran?
Ed Sheeran is an English singer and songwriter. Furthermore, his first album was released in 2012. He gained a lot of success with this album, earning two Brit Awards for Best British Male Solo Artist and British Breakthrough Act. Additionally, his second album had even more success worldwide, with his hit song "Thinking Out Loud". Some other popular songs of his are  "Shape of You" and "Castle on the Hill". In 2016 he won the Grammy for Song of the Year. Furthermore, in 2019, Sheeran married his longtime girlfriend, Cherry Seaborn. The couple shares two children. Check out the Ed Sheeran house below.
Where is Ed Sheeran from? Halifax, England
How much is Ed Sheeran worth? 
Ed Sheeran Net Worth: $200 million
Where Does Ed Sheeran Live?
These properties are located in the Suffolk area in England. Furthermore, Suffolk is about a two hour drive to London. 
The house has four bedrooms and three bathrooms with over 4,000 square feet of space. This home is one of many properties he has on the same land. Furthermore, he calls this land his compound. The main house sits next to a large, modernized farmhouse. There is also a quaint bungalow nearby. Additionally, the home features a hot tub, a sprawling deck, and an indoor swimming pool. There is also a gigantic treehouse on the property. Currently, Sheeran is in the process of creating an underground movie theater. Equipped with an underground tunnel that will connect the properties. Furthermore, the coolest thing about this compound is that there is an English-style pub right on the property. 
Specifications:
Bedrooms: 4
Bathrooms: 3
Square Feet: 4,000+ sq ft
Price: $5.5 million
Ed Sheeran Address: Suffolk, England
Photos: Ed Sheeran House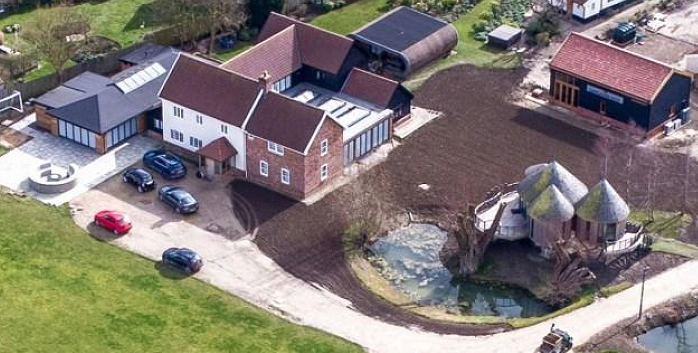 We post on luxury real estate and celebrity homes on our Instagram, Twitter, Facebook, Pinterest, TikTok, and YouTube. Also, Please follow us on each of these. Finally, I hope you enjoyed reading about Ed Sheeran's home. Furthermore, please leave your thoughts and comments below. Lastly, read some other articles like this one on our frontpage.