Who is Kat Dennings?
Katherine Victoria Litwack who is better known by her professional name Kat Dennings, is an American actress. She made her debut as an actress in her role as Sloane in the movie "Raise Your Voice". She has also had support roles in the "40-Year-Old Virgin" and also "Down In The Valley".  In addition, her biggest role is her part in the famous CBS sitcom, "2 Broke Girls". Furthermore, she appears as Darcy Lewis in the MCU(Marvel Cinematic Universe). Additionally, she has been in several superhero films like Thor, Thor: The Dark World, Thor: Love and Thunder, and also Wandavision. Keep on reading to see more about Kat Dennings house.
Where is Kat Dennings from? Bryn Mawr, Pennsylvania
How much is Kat Dennings worth?
Net Worth: $25 million
Where Does Kat Dennings Live?
Kat Dennings house is located in San Rafael, California. San Rafael is a city situated in the North Bay Region of the San Francisco Bay area. From a census done in 2020, the city has a population of about 62,000 people. Further, the city population has grown by about 4000 people since the previous count. Additionally, in 2010 census counted about 58,000 people in the San Rafael region. In addition, San Rafael is famous for having an artistic community, many historic architectural designs, and also its beautiful parklands. Finally, in all the places in different places in Marine County. San Rafael is regarded as one of the best places to live in that area.
The house has 3 bedrooms and 1 bathroom sitting on 1,505 square feet of living space. Furthermore, it is a single-family contemporary-style home built in 1902. In addition, the house has a total land area of about 8000 square feet. Which is a lot of space to add other features and amenities to the property. In addition, the house comes with a nice fireplace and a deck as well. Also, there are nice trees and flowers all around the property.
Specifications:
Bedrooms: 3
Bathrooms: 1
Square Feet: 1,505 sqft
Price: $1 million
Kat Dennings House Address: San Rafael, California
Photos: Kat Dennings House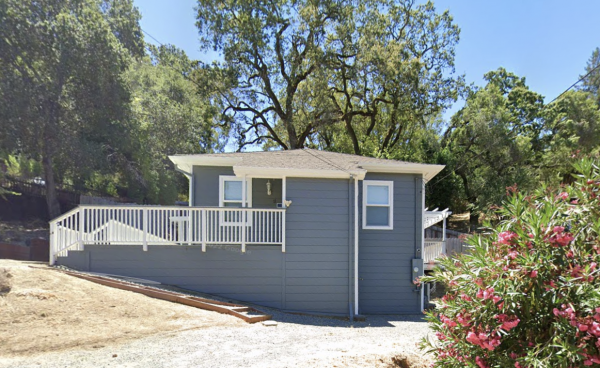 In addition, we post on luxury real estate and celebrity homes on our Instagram, Twitter, and Facebook.
Also, please follow us on each of these. Finally, I hope you enjoyed reading about Kat Denning's house. Furthermore, please leave your thoughts and comments below. Lastly, read some other articles like this one on our frontpage.